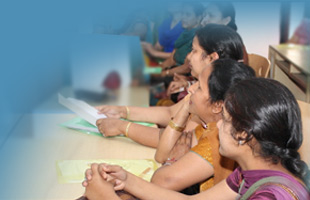 "The ID training is a thriller! It opens the mind of apprehensive educators to embracing technology beyond power points, smart boards and smart classrooms." 
– Preeti Puri,
School Counsellor and Teacher Educator,
Bluebells School International,
Kailash Colony, New Delhi
---
ID Mentors recently concluded a two-part training program for the Senior Management of Bluebells International School, Kailash Colony, New Delhi. The program was attended by Supervisors of Pre-Primary, Primary and Middle School, the Department Heads of all subjects, and the School Counselor/Teacher Educator.
The focus of the program was to facilitate school faculty to move beyond being mere consumers of technology to becoming producers of technology-enabled learning. And keeping with our maxim, Practicing what we Teach, the program was delivered in a blended format.
The participants went through the online course, ID @ Work for Practitioners, and then attended a workshop on Instructional Design and ICT-enabled teaching. The entire program was well-received, with the participants specifically highlighting the online part, which they said gave them an experience of online learning, and what it entails.