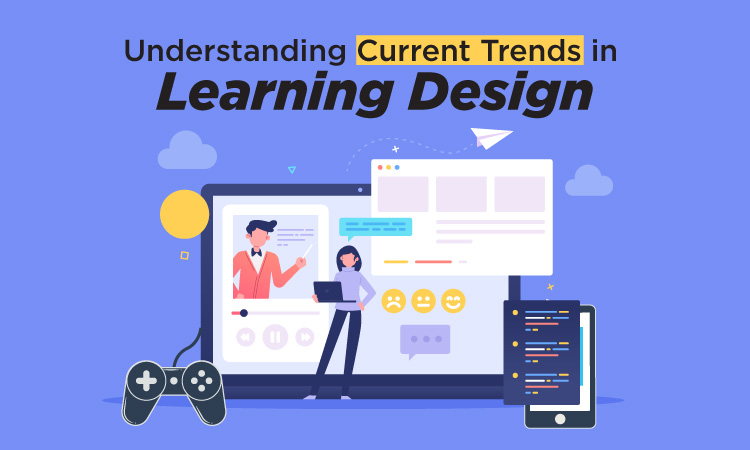 Understanding Current Trends in Learning Design
Understanding Current Trends in Learning Design
When technology evolves, people find new ways to use it. And then these techniques slowly permeate into the way we learn and share information. In the past couple of years, the prolific use of social media has turned the learner from being just a passive consumer of learning material to an active contributor in the learning process. This has in its wake led to the emergence of new ways of learning.

This course Understanding Current Trends in Learning Design is meant to help you decode these terms, and exemplify how the new techniques can be rendered by learning and development professionals.

Also, this course is designed to provide you with a learning experience that is different from what traditional online learning offers. It showcases new ways to disseminate learning in an organization, and depicts how you can create an engaging and interactive course around resources that are readily available – resources such as infographics and blog articles.
Who should take this course?
This course is meant for experienced instructional designers, corporate trainers and learning and development professionals.
---
How is the course designed?
The course is designed in a semi-structured manner. It is an amalgamation of traditional instructional design and curated content and presents opportunities to learners for reflective observation. It addresses the following concepts: content curation, gamification, learning analytics and learning experience design and is made up of five episodes as detailed below.
Episode 1 – Current Trends: An Introduction
Unit 1- A Learning Scenario
Unit 2- Current Trends: Review of Key Terms
Unit 3- Current Trends: Exercise
Episode 2 – Content Curation
Unit 1- Understanding Curation
Unit 2- Curation: Exercise
Episode 3 – Gamification
Unit 1- Understanding Gamification
Unit 2 – Gamification: Exercise
Episode 4 – Predictive Learning Analytics
Unit 1 – Understanding Predictive Learning Analytics
Unit 2 – Predictive Learning Analytics: Exercise
Episode 5 – Learning Experience Design
Unit 1 – Understanding Learning Experience Design
Unit 2 – Learning Experience Design: Exercise
Episode 6 – Course Summary
Unit – Current Trends: Summary
---
Certification
To qualify for your certificate from Purnima Valiathan, you must complete all episodes in this course and score 70% or more in the course assessment.
---
Course Reviews
5 stars

1

4 stars

1

3 stars

0

2 stars

0

1 stars

0