ID @ Work for Practitioners
ID @ Work for Practitioners
Instructional Design @ Work is an experiential learning course on Instructional Design. It addresses the following principles and frameworks of learning and motivation: Behaviorist, Cognitive and Constructivist principles, ADDIE, Bloom's Taxonomy, Merrill's Content-Performance Matrix, Ruth Clark's Content-types framework, Keller's ARCS, Gagne's Events, Kolb's Experiential Model, Kirk-Patrick's Model of Evaluation, and Thiagi's views on interactivity. What's more, it addresses these principles in novel and unique ways to ensure that learning sticks and gets transferred to your long-term memory easily and effectively. And finally, learners' get to explore how these principles manifest in the creation of Program Outline, Detailed Design and learning material.
Who should take this course?
This course is aimed at all those who apply Instructional Design in any of these forms: Corporate Training, Textbook Authoring, or K-12 teaching and Multimedia creation. It promises to be a journey of discovery in instructional design for Practicing Instructional Designers, Corporate Trainers, K-12 Teachers and Subject Matter Experts.
---
How is the course designed?
The course is designed as a blend of the old and the new, a mix of theory and practice, presented in a simple, yet insightful way. It comprises of seven episodes, and each episode is structured as below.
Principles: Popular frameworks are analyzed and demystified in an engaging manner.
Reflections: Experiences and insights from the field are presented.
Exhibits: Deliverable is showcased with an explanation of crucial parameters and valuable tips on creating it.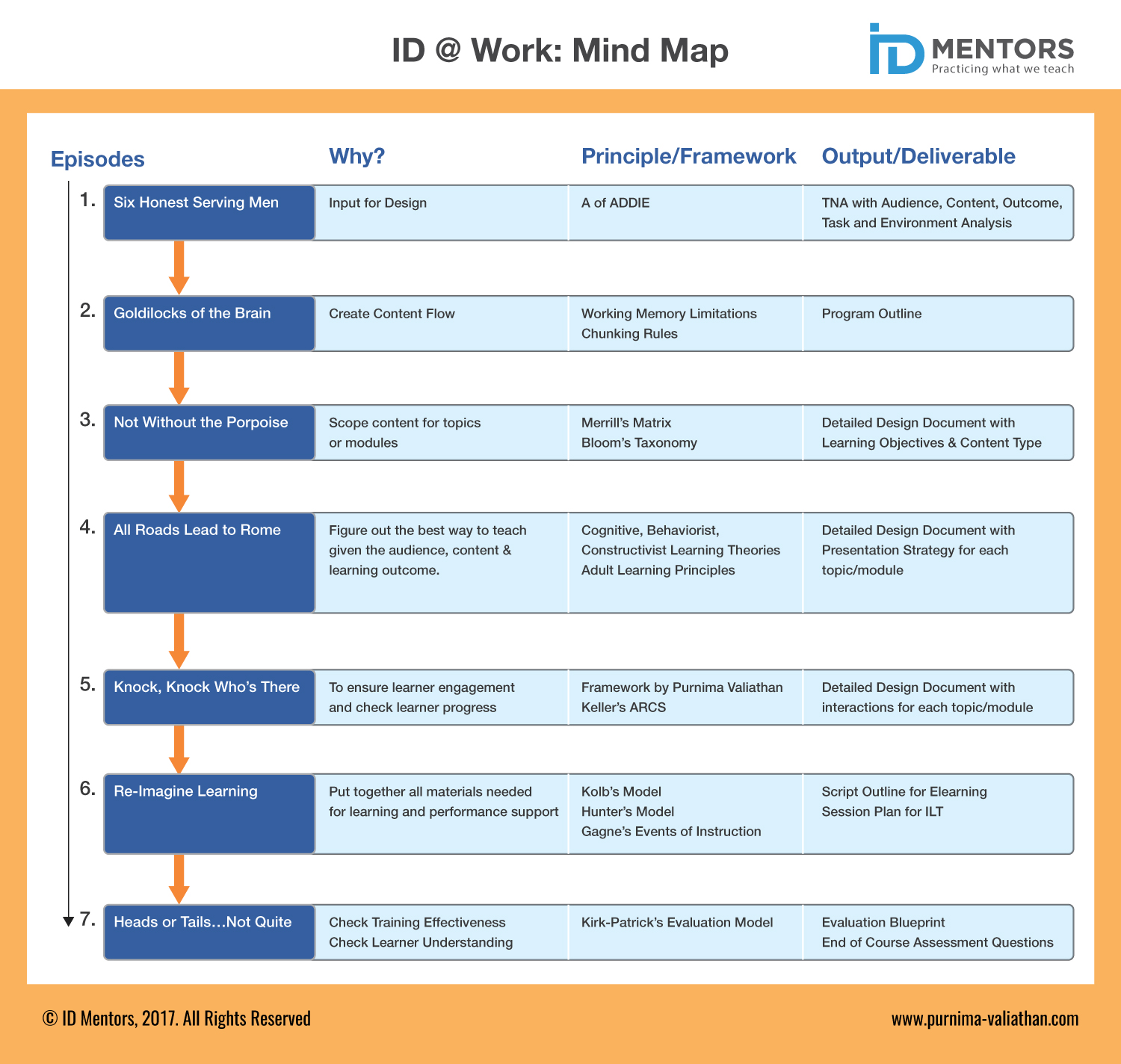 ---
Course Name
Instructional Design @ Work
Skill Addressed
Training Need Analysis (TNA)
Solution Design
Duration
(Learning Time)
1 Month
Target Audience
ID Professionals; Trainers; Subject Matter Experts
Online Assessment
Yes
Assignment / Project
2 Assignments

Training Need Analysis
Design Document/Approach Note
---
Certification
To qualify for your certificate from Purnima Valiathan, you must complete all episodes in this course and score 70% or more in the course assessment.
---