Developing Content for Vocational Training
Developing Content for Vocational Training
This course, Developing Content for Vocational Training, takes you through the complete skilling content development process, starting with the creation of the Model Curriculum to designing and developing Participant Handbooks. The course maps universally accepted methodologies, such as the DACUM Approach and the ADDIE model against the various work outputs that are part of the VET content development process.
---
---
Who should take this course?
This course is meant for subject matter experts, vocational trainers, instructional designers and content developers who are involved in the VET space, specifically those who develop skilling content.
---
How is the course designed?
The course comprises six modules as depicted below. It is designed to reflect the ADDIE model, and work outputs, such as the Model Curriculum and Participant Handbooks are mapped to the relevant phases of this model. A sample case study is referenced throughout the course to showcase how content designed for the VET space must be task-driven and highly visual.  Each phase in the ADDIE model is explained and exemplified with the help of best practices and work samples. Theories, frameworks and concepts are seamlessly integrated with the ADDIE model and the corresponding work outputs.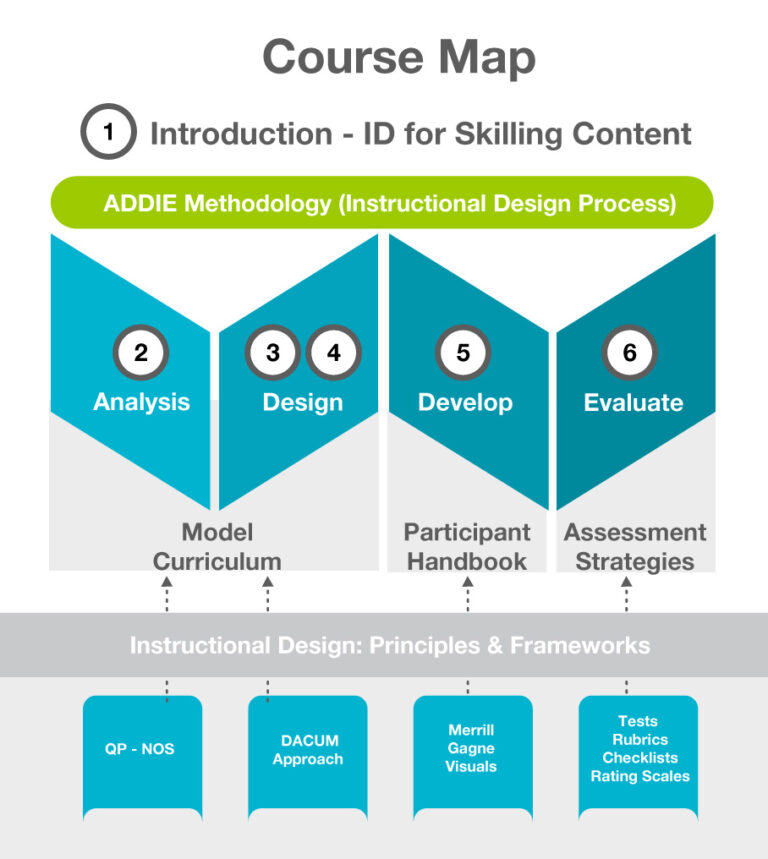 ---
Course Name
Developing Content for Vocational Training
Skills Addressed
Write learning outcomes; Create program outline; Develop content
Duration
(Learning Time)
Learning Seat Time – 7 hours; Course Access – 15 Days
Target Audience
Instructional Designers; Content Developers; Vocational Trainers; Subject Matter Experts
Online Assessment
Yes
---
Certification
To qualify for your certificate from Purnima Valiathan, you must complete all episodes in this course and score 70% or more in the course assessment.
---
Course Reviews
5 stars

0

4 stars

0

3 stars

0

2 stars

0

1 stars

0
No Reviews found for this course.