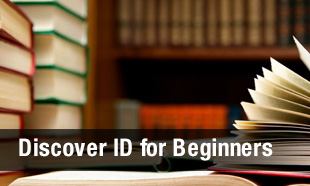 Discover Instructional Design - For Beginners
Discover Instructional Design – For Beginners
Discover Instructional Design is an interactive task-based course for Instructional Design Beginners. It takes the learner through the complete Development Life Cycle (DLC) with specific focus on content development or scripting – the DLC activity most Beginners will be involved in when they join as novice or trainee Instructional Designers. It addresses the following tasks: Chunking, Objective-writing, Scripting/Storyboarding, Visualizing and creating Multiple Choice Questions (MCQs). To connect workplace tasks with learning principles, they are built upon basic learning principles, such as ADDIE, Gagne's Events, Ruth Clark's Content-Types framework, and Bloom's Taxonomy.
Who should take this course?
This course is aimed at Beginners – those starting off as Instructional Designers or Instructional Design Trainees who may have a certificate in the discipline but are not yet exposed to how Instructional Design is applied at work. The course is also meant for teachers and trainers who want to learn about the basics of Instructional Design because they are collaborating with Instructional Designers for creating E-Learning or Classroom-based training.
---
How is the course designed?
As depicted below, the course structure is designed to mirror the tasks that Beginners /Content Developers perform.
Introduction to ID → Organize Content → Identify Content Type → Specify Objectives → Script the Topic → Visualize the Script → Create Questions
The course comprises seven episodes, and each episode is designed to take learners from familiar terrain to new and unfamiliar terrains.
---
Episode Structure
Food for Thought: A short anecdote that will immerse the learners gently into new areas before the main content unfolds.
Quick Quiz: Questions based on the short anecdote that is meant to force learners to reflect and respond.
Theory: Underlying concepts and principles that drive a specific task in the scripting process.
Examples: Samples of the task output and how it is rendered in the workplace.
FAQs: Some frequently asked questions that beginners and instructional designers have about ID and the development process of learning material.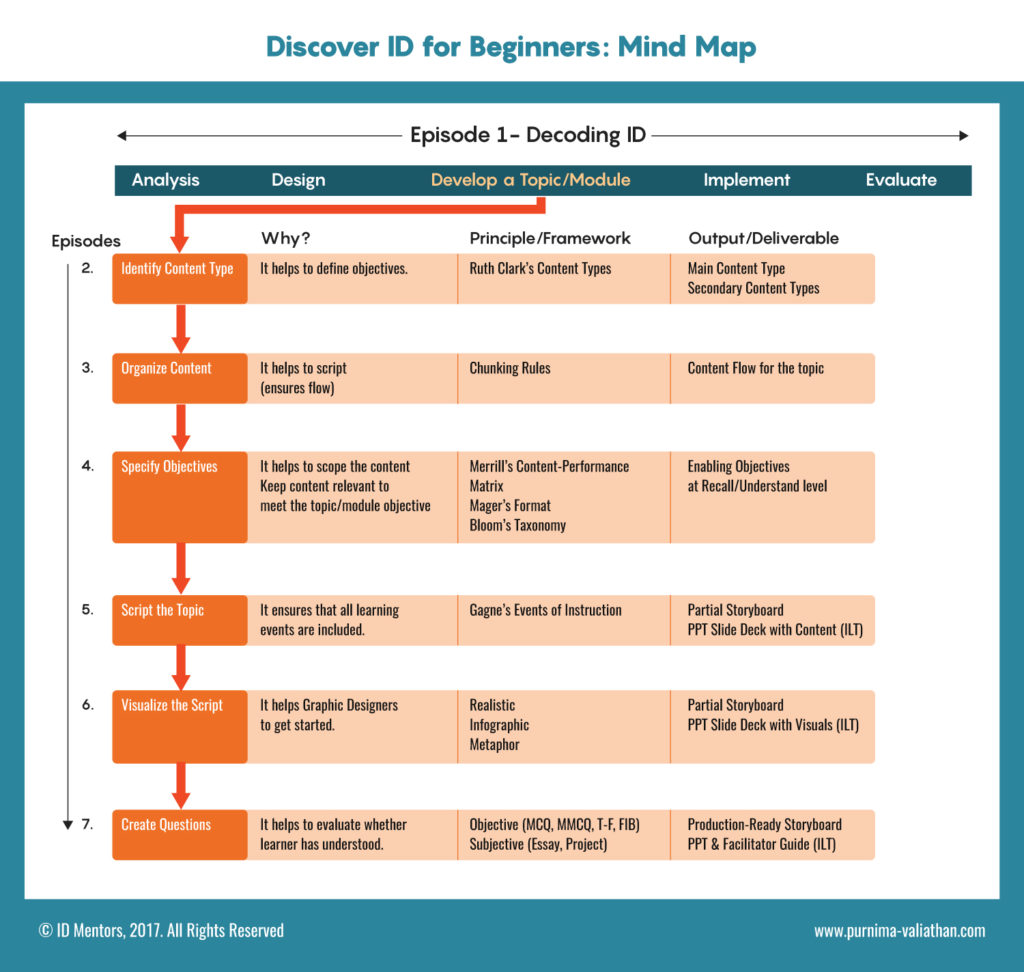 ---
Course Name
Discover Instructional Design
Skill Addressed
Storyboarding
Duration
(Learning Time)
1 Week
Target Audience
Freshers; Content Developers; Trainers
Online Assessment
Yes
Assignment / Project
1 Assignment
Storyboard or ILT Session Deck
---
Certification
To qualify for your certificate from Purnima Valiathan, you must complete all episodes in this course and score 70% or more in the course assessment.
---