Mobile Learning and Microlearning
Mobile Learning and Microlearning
This course will introduce you to the concept of mobile learning and microlearning.  You will learn about the strengths and weaknesses of learning through mobile devices, and the situations in which it is recommended. You will also look at how the features of mobile give rise to the need for designing short and focused courses called Microlearning. In addition this course will equip you with the understanding required to develop Mobile learning and Microlearning courses.
Who should take this course?
This course is meant for Instructional Designers and Elearning Content Developers with some experience in developing online learning.
---
How is the course designed?
The course will start with covering popular terms, such as Responsive Design, Adaptive Design, and Device-agnostic Design and then move on to the specific design principles to be adopted for Mobile learning and Microlearning. You will also see some examples of different types of Microlearning.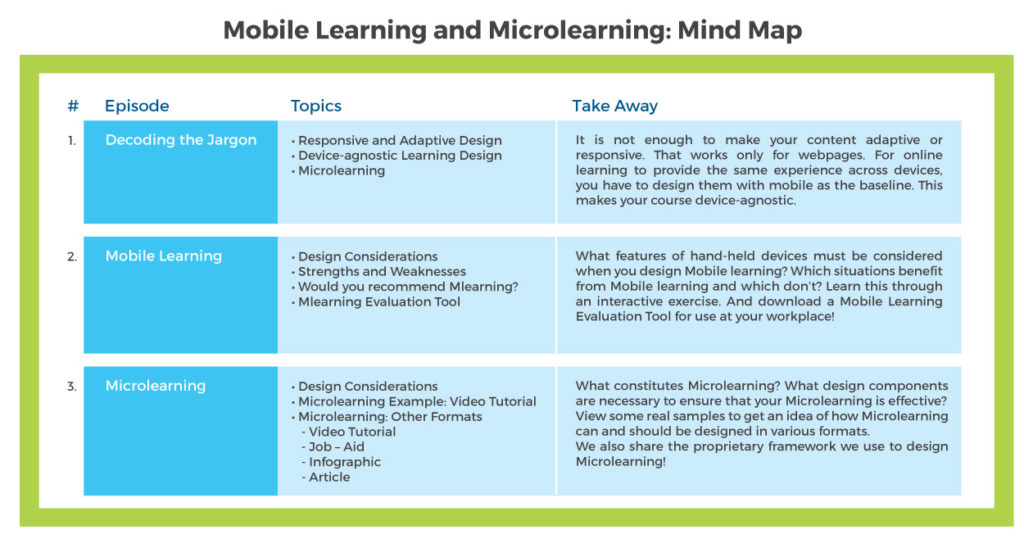 ---
Course Name
Mobile Learning and Microlearning
Skill Addressed
Develop a Microlearning piece

Decision-making: when to use mobile learning/Micro-learning

Duration
(Learning Time)
15 days
Target Audience
ID Professionals
Online Assessment
Yes
Assignment / Project
1 Assignment
Develop a Microlearning piece
(Article, video tutorial, job-aid or infographic)
---
Certification
To qualify for your certificate from Purnima Valiathan, you must complete all episodes in this course and score 70% or more in the course assessment.
---
Course Reviews
5 stars

2

4 stars

2

3 stars

0

2 stars

0

1 stars

0