Understanding Curation
What is content curation, and what does it mean for Instructional Designers? This article is an attempt to look at content curation from an Instructional Design perspective.
With the speed at which new buzzwords are added to the L & D lexicon, I am reminded of the nursery rhyme, Mary had a little lamb….with Mary being technology and marketing, and the little lamb being the L & D community – that's us – you and me. So here we are the "little lambs" once again, following Mary around. And this time we follow her to the "Content Curation" land.
To start with let's look at a few generic definitions of curation –
Cambridge dictionary: "the selection and care of objects to be shown in a museum or to form part of a collection of art, an exhibition, etc."
com: "to pull together, sift through, and select for presentation"
Wikipedia: "the collection and sorting of information"
Carr (2012): "The idea behind curation, sometimes called aggregation, is linking and or excerpting the work of others"
By the above definitions, it does seem like exactly what many instructional designers have been doing and continue to do. We have researched and identified content. We have filtered and reorganized it. But, we didn't call it Content Curation then! So, why so much brouhaha over this term, "Content Curation" now? What is the delta? Is there any at all?
Analysis from a Learning Perspective
I am not sure but I think the term, Content Curation originated in the marketing field. So basically, in marketing, businesses collect content related to a specific topic that targets a certain audience, add expert comments and viewpoints to this and then share it online. The purpose of content curation here is to enhance branding, generate leads, acquire customers and sometimes even provide customer service.
However, content curation for learning is different – because the purpose here is to help people learn as against simply inform. And as I mentioned before, we instructional designers have already been doing quite a few tasks that are part of the content curation process. So how is it different from content creation, which is what we mostly do? Let's see.
In both cases, we do collate, contextualize and publish content. That's what I see as the commonality. The key difference between the two lies in the sub-tasks involved in contextualizing. While you just filter and re-purpose in the case of curation, to create content you have to design, storyboard, and develop media and other resources.
Curating Content for meeting Learning Objectives
Contextualizing content for learning may be simpler than creating content, but it still involves a fair amount of work. The first step is to filter the content that you have collated by identifying the ones that are most relevant to meet a learning need. Next, you need to re-purpose it to meet the learning objective. This may be done in any one of the following ways: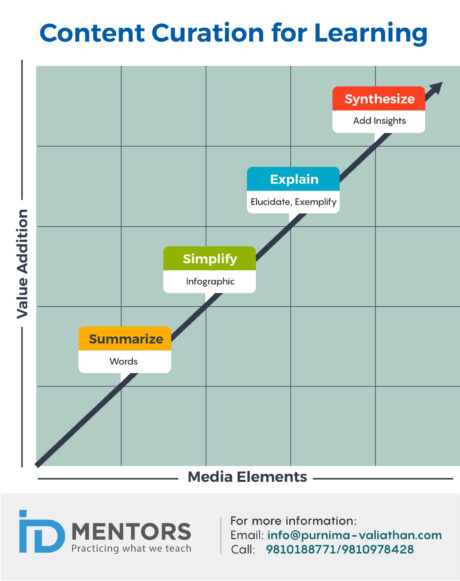 Summarize: Summarize the key message from the collated material and provide links to original works. The summary may be a simple one-paragraph overview to the topic/concept or a list of key points from each content piece. Note that in this case, your effort is the bare minimum because you reproduce the material in only words, and no media.
Simplify: Paraphrase the curated material in the form of an infographic for easy comprehension and quick recall. Since this involves repurposing original content by rewriting and adding graphics, it will require more effort.
Explain: Elucidate the essence of the collated content pieces and add examples where needed. You can create this in a graphics and text format or a short video. Since you are adding much more value to the original content pieces, this strategy will involve more effort than summarizing and simplifying.
Synthesize: Gain insights from the collated content and share these via text and media. You may create a short video to share the insights or a small write-up with media elements. The value addition in this case is extremely high….you may add value from a content perspective as well as through media elements, such as a video.
If you want another perspective on this topic, here is a write-up on Content Curation by Mike Taylor, a learning consultant.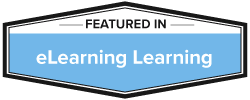 Concepts
Tools
Type
Companies
Events
No Events in next 30 days