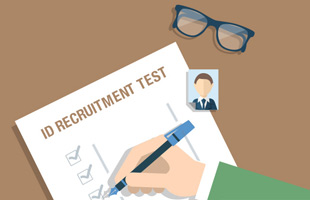 "The most serious mistakes are not being made as a result of wrong answers. The truly dangerous thing is asking the wrong question". — Peter Drucker
Perhaps, it's the wrong question!
When I was interviewed for my first job as an Instructional Designer, I was tested on my creative skills through this question, "How many varied uses can you list for a pen's cap"? This was twenty years back, and I believe that "creative skill" continues to top the list of skills that organizations in India continue to check even today. Only that, along with listing varied uses of an object, another test is administered – one which requires candidates to design/script a sample topic to demonstrate writing skills and, yes, creativity.
At the expense of inviting dissent from many Instructional Designers, I want to say that this doesn't work at all, for the following reasons:
Not Valid: Creativity is a secondary skill and not a primary skill for instructional designers
Not Reliable: Creativity is a subjective concept, which makes objective evaluation difficult. What's more, the sort of content provided to create a sample creative output is often too simple. And worse still, I recently learned from some Instructional Designers, that this test (of almost every organization) can be easily purchased in Delhi, India!
What then is the right question?
During my years as Head of Instructional Design, I found most good instructional designers to be those who were not intimidated by content, and were naturally good learners. If I were to describe their competencies, it would be the following:
Ability to comprehend jargon-ridden content written by academics and Subject Matter Experts
Convert this content into universally-accepted and easy-to-understand learning constructs
Tenacity to consume volumes of such content, project after project
The ID Recruitment Test© is an outcome of this knowledge, understanding and experience that we at www.purnima-valiathan.com [ID Mentors] have gained over many years of hands-on work in the field. The ID Recruitment Test© is divided into four sections (as below) with a total of thirty questions that are displayed randomly from a Question Bank of 65 questions.
Comprehension skills (using varied topics)
Structuring and visualizing skills
Decision-making and judgment skills in specific situations
Knowledge of popular ID principles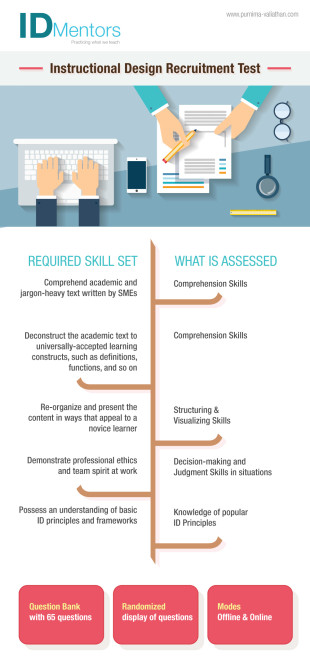 This test is valid because it assesses the right skills. It is reliable, since it is in an objective format. What's more, it's efficient because you can administer it in the online mode. This test is meant to be administered as the first check-point, post which you may call the candidate for a subjective assignment and interview.
---
Try out the sample of our ID Recruitment Test from our portal: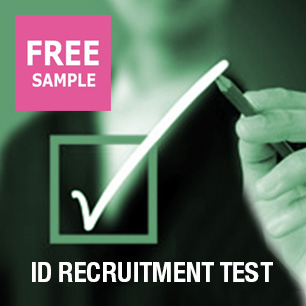 ID Recruitment Test©: Free Sample
---
To sum up:
"The beginning of thought is in disagreement – not only with others but also with ourselves."
— Eric Hoffer