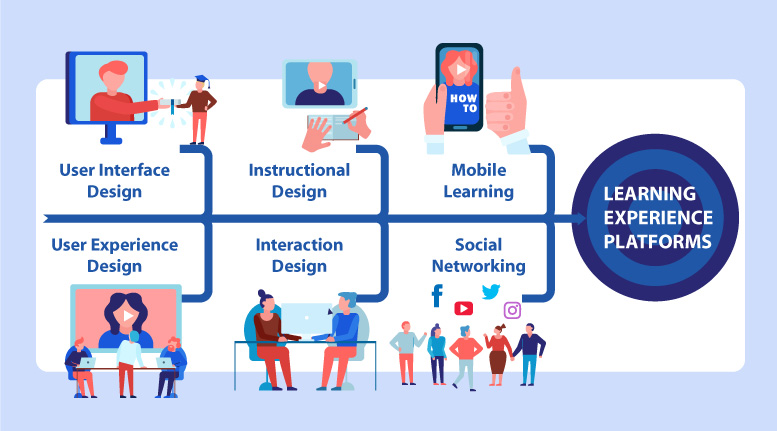 Introduction
The twin concepts of Design Thinking and User Experience drive product design as well as software and web design. And, since a significant amount of learning is happening via technology these days, it is inevitable that these concepts will influence learning design. Hence, the emergence of the term, Learning Experience Design. But what does this term mean for instructional designers? How does it make our jobs and roles different? Let's see.
The LMS Era
LMS, the popular technology platform for learning didn't have the features necessary to implement a constructivist approach (unstructured learning). Most courses designed for LMS platforms were linear and humongous with limited interactivity and learner control. It was great at acting as a repository that catalogued all the structured courses, stored records of learners and tracked the course completion status. However, it was not a platform that allowed unstructured and informal learning.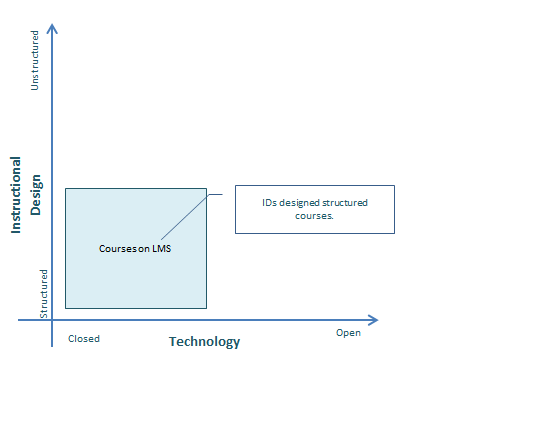 The LMS platform was a closed structure that made administrative tasks easy. It was designed to be used by administrators and instructors who would create and deliver content to be consumed by learners. This is an important point to note – the technology available to instructional designers was not learner-centric; it wasn't that instructional designers didn't adopt a learner-centric approach. But those of us who practise our craft diligently, continued to design learner-centric solutions, even if it meant that we needed to work around technology constraints. Hence, we continued applying the ADDIE methodology with a focus on learner analysis, which I consider is akin to the Design Thinking process with its focus on the end users. What employees needed to know and understand in order to perform workplace tasks were designed as structured courses delivered via LMSs. On the other hand, situations that required context, collaboration and hands-on application were designed as offline pieces in the form of workshops, projects and assignments, and job-aids or other performance support tools. This mix of delivery media and instructional approaches is what is popularly referred to as Blended Learning.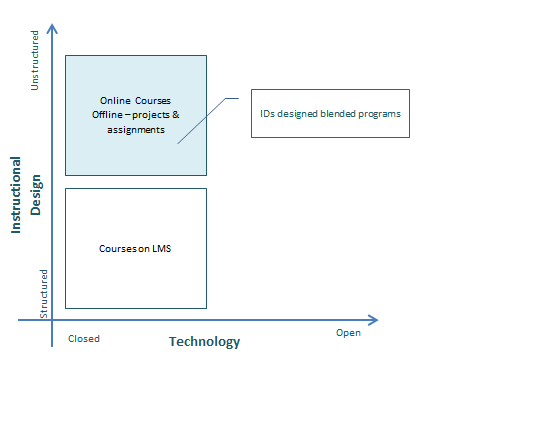 Emergence of the new Web
The increasing role of social media in our day-to-day lives impacted the way we learn too. What started off as virtual spaces to connect, morphed into virtual spaces to learn and share. LinkedIn, Pinterest and Twitter became platforms where members could learn, share and publish content. YouTube began to be increasingly used by people to publish the videos they created – especially How To tutorials. Added to this, smartphones made it easy to access and share content anytime, anywhere. So, basically, content authoring and publishing that happened within closed systems were thrown open to anyone who wished to create and share content.
LMSs didn't provide the collaboration and social learning features that social networking platforms offered. Neither did it track data related to these informal means of learning. Last, but not the least, most LMSs were not compatible with mobile phones.
Emergence of LXPs
It is in this scenario, that Learning Experience platforms emerged. Unlike LMS, which is a closed platform, where administrators control content, LXPs allow users to aggregate and curate content. It offers greater user control than the traditional LMS. In addition, it can be integrated with other HR systems, and is also mobile compatible. Also, unlike SCORM-based LMS, LXPs are designed to track informal and social learning as well through xAPI, a standard that allows the tracking, storing, and sharing of learning experiences across platforms. Some LXPs are also Artificial Intelligence (AI) driven.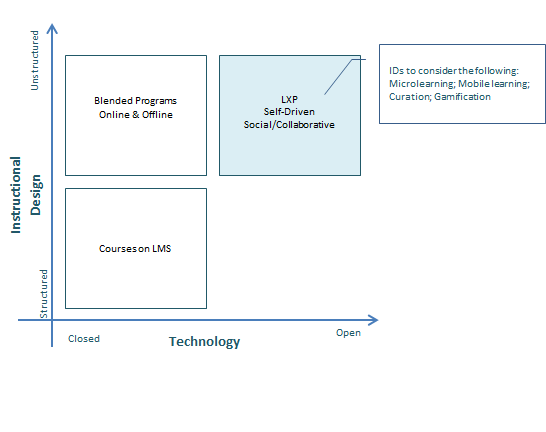 What's the delta for instructional designers?
With most institutions adopting LXPs, it is necessary that instructional designers consider the possibilities with LXPs when they design learning experiences. For example, microlearning, content curation, content aggregation, mobile learning, social learning, self-driven learning etc. which were not possible with traditional LMS, can now be integrated with LXPs.
There is another shift that we must bring about – and this is with regard to how we think about learning – it is not a one-time intervention but an activity that is continuous and ongoing.